Einmal um die Welt | Once around the world
24.11.2017
Kiel | Flight 27
---
Mit dem Flug nach Kiel schließen wir unsere Weltumrundung ab.
Start: 11:26 Uhr (MEZ)
Landung: 13:48 Uhr (MEZ)

Wir übernachteten in Friedrichshafen im Hotel Seehof in Immenstaad direkt am Bodensee. Die frische Seeluft stimmte uns angenehm auf die winterlichen Temperaturen in Deutschland ein.

Um 10:00h local Fahrt zum Flughafen, bezahlen der Landegebühr und Gang durch die Kontrolle. Hier wollte die Frau sogar meine Pilotenlizenz sehen - wir sind in Deutschland! Kleiner Bus zur Malibu. Ölcheck, Drainen, Gang um die Malibu - Was ist das? Neben uns stand ein Eclipse Jet mit vielen roten Bändern an verschiedenen Stellen und einer amtlich versiegelten Tür - eine gegroundete Maschine.

Einsteigen, Clearance Taxi zur Runway 24 und wir waren zu unserem letzten Weltumrundungsflug in der Luft. Übergabe an Swiss Kontrolle - dann weiter an Langen und schließlich bei Bremen ATC. Wir hatten auf FL180 guten Wind seitlich von hinten (südöstlicher Wind), sodass wir mit über 180 Kt gut vorankamen. Bremen hatte sogar schon von unserer Weltumrundung gehört.
12:05Z waren wir über Hannover
12:25Z Hamburg und der Sinkflug und Anflug auf Kiel begann
12:42Z hatten wir auf das Kieler ILS eingeschwenkt, noch waren wir in Wolken. Ich (Karl-Heinz) wechselte schon von ATC zum Tower - da war Janine am Funk - Willkommen zurück in Kiel!
12:46Z die Runway ist in Sicht
12:48 Touch Down in Kiel - Hurrah - wir haben die Weltumrundung geschafft.
Taxi zum Tower, wo wir von einer bunten Menge erwartet werden - was ist das? Die Feuerwehr empfängt uns mit einem mächtigen Fontänestrahl Wasser über die Malibu. Was für ein fantastischer Empfang! Glücklich wieder zu Hause!
In Kiel werden wir am Flughafen begrüßt und in Empfang genommen:
Empfang in Kiel

Wir wurden bereits auf der Earthrounder-Seite aufgenommen:
http://www.earthrounders.com/singles.php

Auch bei RocketRoute findet sich ein Artikel zu unserer Weltumrundung:
RocketRoute Artikel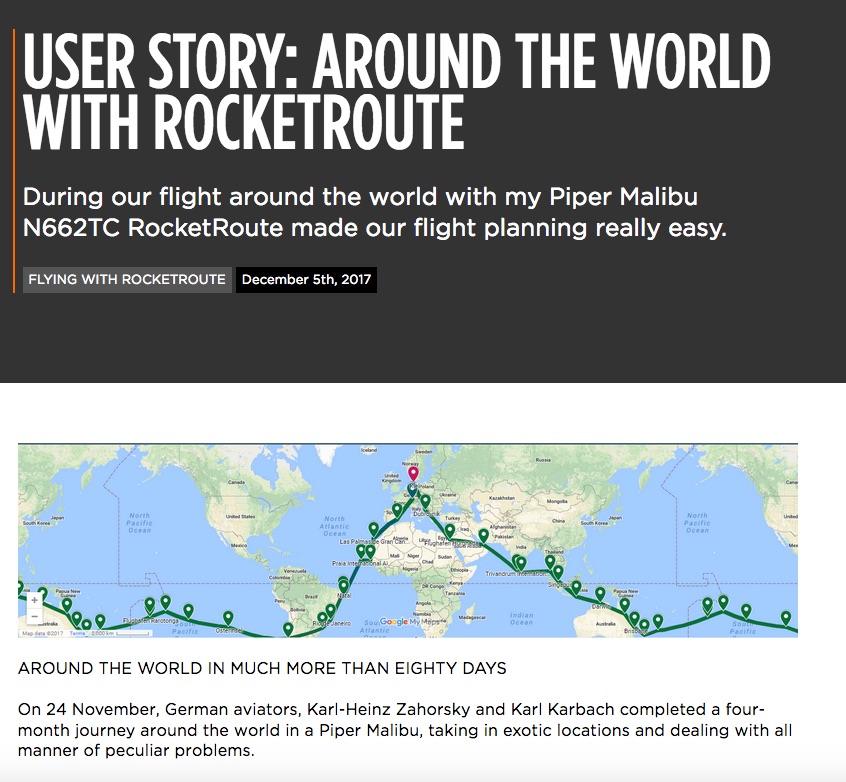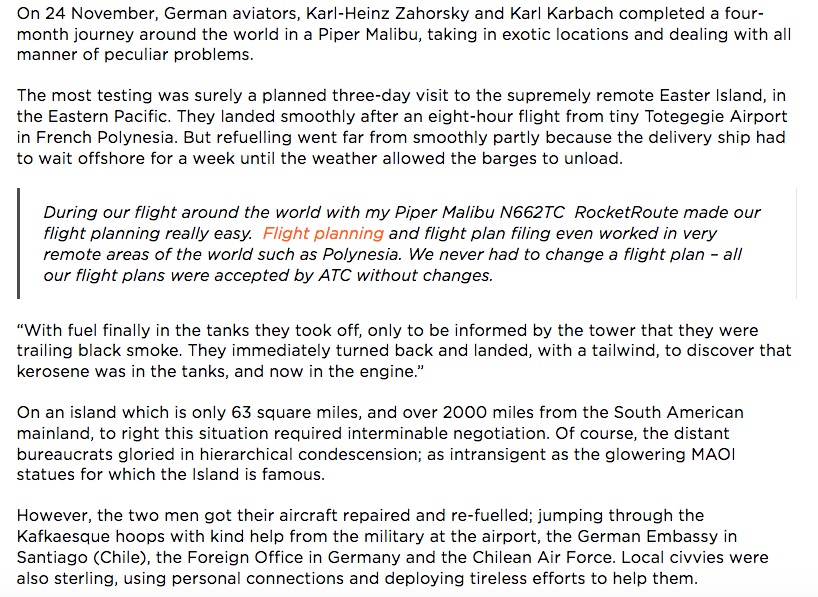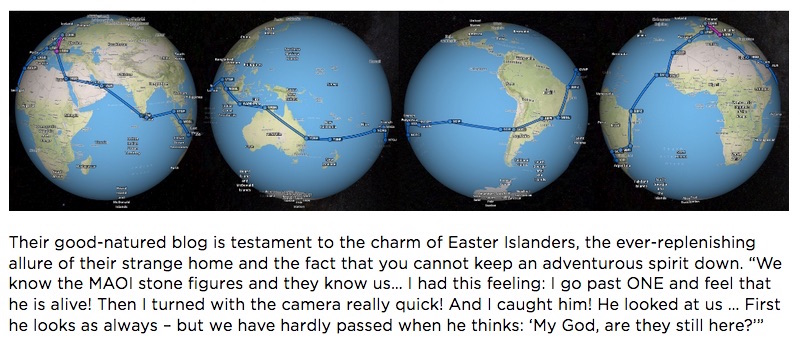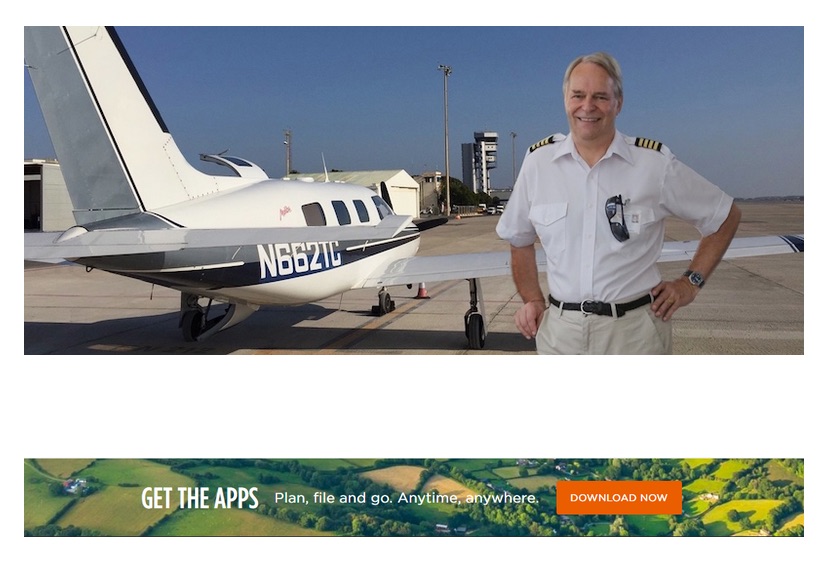 Source:
https://www.rocketroute.com/blog/user-story-around-the-world-with-rocketroute
In den Kieler Nachrichten ist ein wunderbarer Artikel zum Ende unserer Weltumrundung erschienen:
KN Artikel vom 18.12.2017
Die SHZ berichtet:
SHZ Online Artikel
SHZ Artikel als PDF
With our flight to Kiel we complete our Worldflight.
Departure: 11:26
Arrival: 13:48

We stayed in Friedrichshafen at the Hotel Seehof in Immenstaad, directly on Lake Constance. The fresh sea air gave us a pleasant first impression on the winter temperatures in Germany.
At 10:00h local, we drive to the airport, pay the landing fee and walk through the control. Here the woman even wanted to see my pilot license - we are in Germany! Small bus to Malibu. Oil check, drains, walk around the Malibu - What's that? Next to us was an Eclipse jet with many red ribbons in various places and an officially sealed door - a grounded machine.
Get in, clearance taxi to Runway 24 and we were in the air on our final round-the-world flight. Handover to Swiss control - then on to Langen and finally to Bremen ATC. On FL180 we had good wind from the back (southeast wind), so we made good progress with over 180 Kt. Bremen had even heard of our flight around the world.
12:05Z we were over Hannover
12:25Z Hamburg, and the descent and approach to Kiel began
12: 42Z we had taken route to the Kiel ILS but were we still in clouds. I (Karl-Heinz) have already switched from ATC to the Tower - there was Janine on the radio - Welcome back in Kiel!
12: 46Z The runway is in sight
12:48 Touch Down in Kiel - Hurray - we made the world tour.
Taxi to the Tower, where we are expected by a colorful crowd - what is it? The fire department welcomes us with a powerful fountain of water over the Malibu. What a fantastic welcome! Happy again at home!
In Kiel we are greeted and welcomed at the airport:
Welcome Party in Kiel


We are on the Earthrounder website already:
http://www.earthrounders.com/singles.php

There also is a report on our flight on RocketRoute.com:
https://www.rocketroute.com/blog/user-story-around-the-world-with-rocketroute
We found out more about the other earthrounders that we met on our world flight:
http://airsoc.com/articles/view/id/59a19e233d2d2e62148b4741/earthrounders-updated-24-august-2017
Airsoc article as pdf